Hello everyone and welcome to the first part of a four part series, where we will explore how former Panther players are playing in their new homes.
Anaheim Ducks
Erik Gudbranson, D
Picture Credit to The Athletic
Career with the Panthers: 2011-2016   309 GP, 11 G, 32 A, 43 PTS, -49, 346 PIM
Time with the Panthers: After being picked 3rd overall by the Panthers in 2010, Gudbranson never panned out to be the star two-way defender he was supposed to be. Rather he became a reliable bottom pairing defenseman, who would stick up for his teammates, and was a leader in the locker room who brought old school play. Gudbranson was a fan favorite in Florida and still is to some to this day.
After the Panthers: Gudbranson was traded to the Vancouver Canucks in May 2016 for Jared McCann and picks. In his first two years in Vancouver, Gudbranson often struggled with injuries. His final season in Vancouver was rough, which saw him traded to the Pittsburgh Penguins. The Penguins flipped him to the Ducks earlier this season.
Currently: Gudbranson seems to finally have found a home in Southern California. Currently second in PIMs in the league, a very close second in fact, Gudbranson has been averaging about 20 minutes of ice time a game in Anaheim.
Chris Wideman, D 
Picture Credit to NHL.com
Career with the Panthers: 2018-19   1 GP, 0 G, 0 A, 0 PTS, -1, 2 PIM
Time with the Panthers: Wideman's last NHL Game was with the Panthers and it was his only game in Florida.
After the Panthers: Wideman was traded to Pittsburgh for Jean Sebastein-Dea. He played for Wilkes-Barre of the AHL. He signed as a free agent with the Ducks.
Currently: Playing with the San Diego Gulls of the AHL.
Arizona Coyotes
Lawson Crouse, F
Photo Credit to Five for Howling
Career with the Panthers: Never Played with the Panthers
Time with the Panthers: Crouse was drafted 11th overall by the Panthers in 2015.
After the Panthers: Crouse was soon traded to the Arizona Coyotes in the Dave Bolland salary dump. Crouse played his whole rookie season in the NHL in 2016-17 posting 5 goals and 7 assists in 72 Games. In 2017-18, Crouse was stuck in the AHL Tucson for most of the year, only posting 1 goal in 11 games. Crouse returned to the NHL in 2018-19 playing 81 games and posting 11 goals and 14 assists.
Currently: Crouse is on track to beat his goals high with 9 goals and 5 assists in 40 games this year.
Jason Demers, D
Image Credit to Hickling Images
Career with the Panthers: 2016-17   81 GP, 9 G, 19 A, 28 PTS
Time with the Panthers: After being signed as a Free Agent, Demers got off to a hot start scoring wise, but it quickly dried up. Demers saw his role being superseded by other members of the defense over the year as he posted a career worst -14.
After the Panthers: Demers was traded after one season to the Arizona Coyotes for Jamie McGinn. In Arizona, Demers has been a solid defender for them, but has been plagued by injuries.
Currently: Demers is having one of his worst offensive seasons with 5 assists in 36 games for the Coyotes, but is averaging almost 21 minutes a game of ice time.
Boston Bruins
Steven Kampfer, D
Image Credit to Causeway Crowd
Career with the Panthers: 2014-16 73 GP, 2 G, 6 A, 8 PTS
Time with the Panthers: Kampfer was a reliable 7th defenseman for the Panthers in his time with the organization. He never really did much, but he was unlucky, as he once scored 2 goals in 2015-16 to have them both disallowed by the referees.
After the Panthers: Kampfer was dealt to the Rangers for Dylan McIllrath, where in 32 games over two seasons with the Rangers, he had a goal and 2 assists. He was dealt to the Bruins for Adam McQuaid. Serving as the 7th defenseman on the Eastern Conference Champion Bruins, he only appeared in 35 regular season contests and 3 playoff games.
Currently: Kampfer has been constantly shuffled between Boston and Providence this year, which has meant he has only seen 14 games of action this season (8 in Boston, 6 in Providence). Kampfer is a solid injury replacement for the injury-prone Boston backend.
Alex Petrovic, D
Image Credit to Causeway Crowd
Career with the Panthers: 2013-18  254 GP, 5 G, 44 A, 49 PTS, -3, 358 PIM
Time with the Panthers: A second round pick of the Panthers, Petrovic made his debut in the hectic lockout shortened season, but didn't find a regular spot until 2015-16. Petrovic became a fan favorite in Florida with his hard hitting game, as well as a nice playoff performance with 4 points in all 6 games. Petrovic's stellar defensive play earned him protection over Jon Marchessault in the expansion draft, a questionable move which turned out to be greatly wrong, as Petrovic;s defensive game dwindled. This earned him lengthy benchings from Bob Boughner.
After the Panthers: Petrovic's dissatisfaction with being benched and his poor performance saw him traded to his hometown team the Edmonton Oilers. In his 9 game stint with Edmonton, Petrovic quickly drew the ire of Oiler fans as he struggled to adapt in his new home. An injury sidelined him for the rest of his Oiler season. Petrovic signed a PTO with the Bruins.
Currently: Petrovic's tenure in Beantown did not start well as he accidentally collided with Bruins coach Bruce Cassidy. Eventually being waived, Petrovic has spent the year in Providence, and has not played an NHL game this season.
Buffalo Sabres
Michael Frolik, F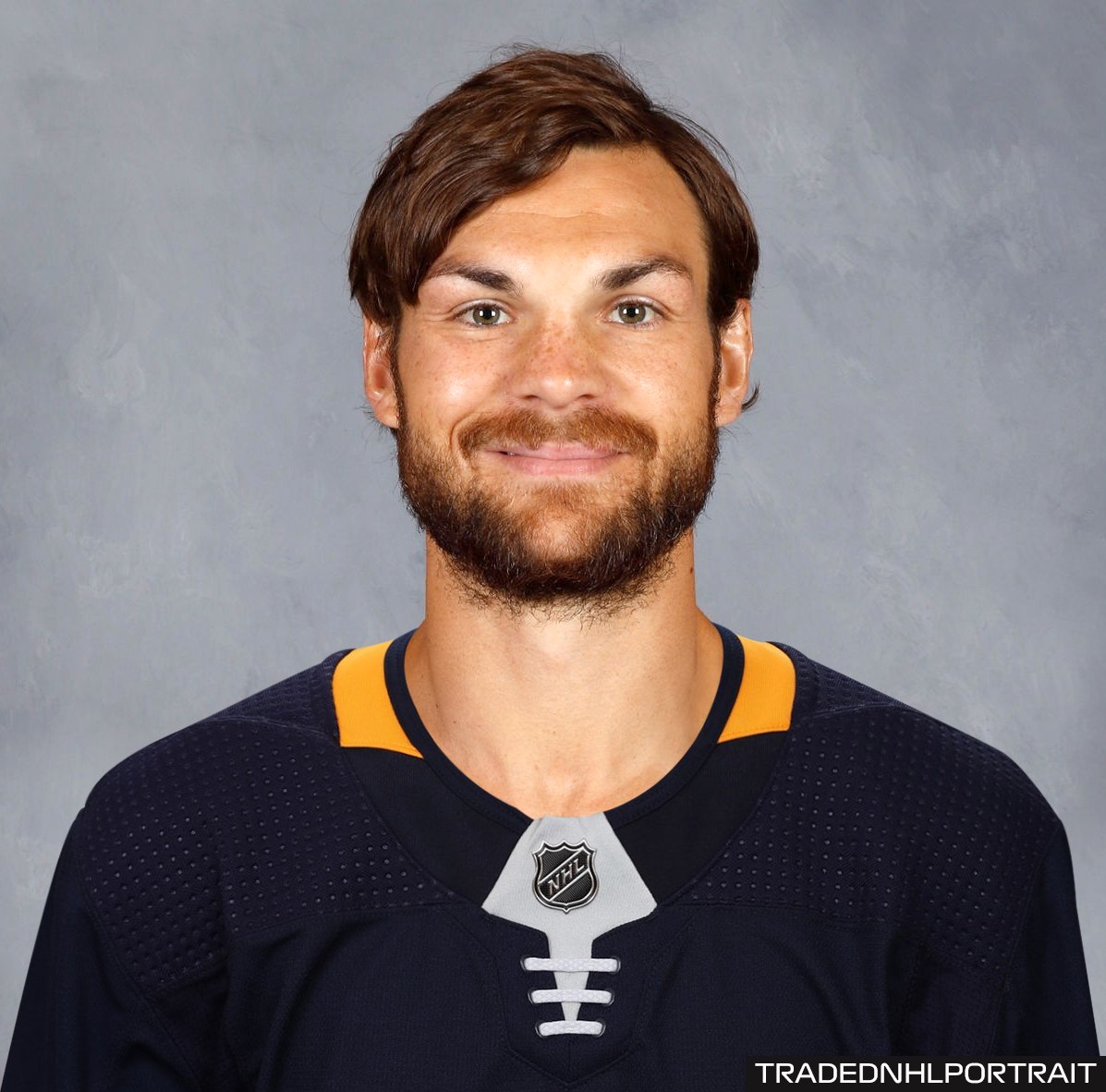 Image Credit to @TradedNHLPortrait on Twitter
Career with the Panthers: 2008-2011; 213 GP, 50 G, 67 A, 117 PTS
Time with the Panthers: Frolik had a phenomenal rookie season with the Panthers in 2008-2009, posting 21 goals and 24 assists in 79 games. In 2009-10, he had 43 points in 82 games. He became a top 6 player for Peter DeBoer, and was traded to Chicago for a package headlined by Jack Skille, a trade the Panthers would probably want back.
After the Panthers: Frolik's offense was not on display in Chicago, as he didn't put up the numbers there that he put up in Florida. After winning a cup in Chicago, he was traded to the Winnipeg Jets where he rediscovered his offensive touch, posting two 42 point seasons. He signed a 5 year contract with Calgary. He has yet to beat his rookie season point total in his career, but was solid in his time in the 'C of Red'.
Currently: Frolik was traded a few days ago to the Buffalo Sabres. He has not played a game with them yet due to visa issues. He has struggled this season with only 10 points in 38 games. A fresh start could help Frolik and the Sabres.
Other Players in Buffalo: Jean- Sebastien Dea: Dea was acquired by Springfield, but never played an NHL game for the Panthers.
Calagary Flames
No Former Panthers currently on the roster.
Carolina Hurricanes
James Reimer, G
Image Credit to Cardiac Cane
Career with the Panthers: 2016-19 123 GP, 110 GS, 53-42-16, .912, 2.85, 7 SO
Time with the Panthers: During his first two seasons, Reimer was a solid backup to Roberto Luongo. However, his final season was a disaster as Reimer struggled, along with starter Luongo. Reimer's first two seasons saw him play the most games of the two goalies due to injuries to Luongo.
After the Panthers: With the emergence of Sam Montembeault, and the signing of Sergei Bobrovsky; Reimer was shipped to Carolina for Scott Darling, a contract that the Panthers bought out.
Currently: Reimer has had a solid season as Petr Mrazek's backup in Carolina, and had a dominant return to Sunrise in October where he posted a 47 save win in a 6-3 Carolina victory.
Chicago Blackhawks
Ian McCoshen, D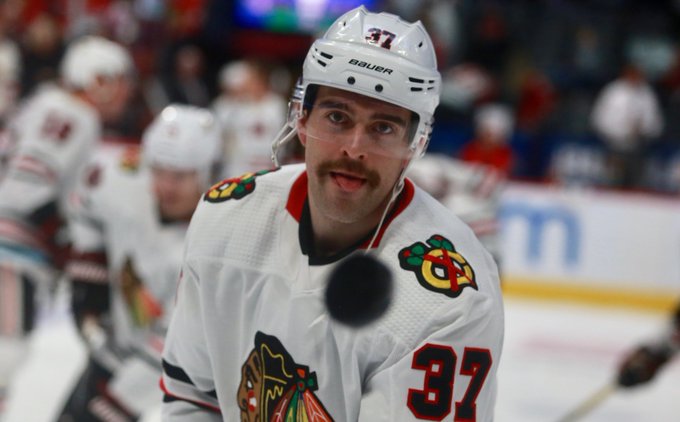 Image Credit to @NHLBlackhawks on Twitter
Career with the Panthers: 2017-19  60 GP 4 G, 3 A, 7 PTS, -12
Time with the Panthers: After being picked in the second round of 2013, McCoshen found himself in a three-way duel for NHL ice time with Josh Brown and Mackenzie Weegar, other defenders who had been picked later in that same draft. McCoshen was a fan favorite in AHL Springfield, winning an organizational award in Springfield.
After the Panthers: McCoshen was traded for Aleksi Saarela.
Currently: McCoshen has yet to take the ice in the Windy City, despite a call up, but is still in Rockford.