Welcome to Part 4 of my Means to Be Successful series. If you have been living under a rock for the past few weeks and you haven't read my previous articles in this series (lol), please go to my homepage and scroll down for the other parts. Don't worry, I haven't done anything else in between this series. Today we will look at what will make for successful seasons from Derek Mackenzie, Michael Haley and Keith Yandle. Also follow me on twitter at @sun_puck. I'm close to 300 followers. Let's get me there!
Derek MacKenzie (Center)
Role: 4th Line Center and Captain
Stats Last Year: 82 GP (T-1st) 6 G (T-4th) 10 A (2nd) 16 PTS (3rd)
Career Stats: 535 GP; 48-63-111
Contract: 1st year of a 2 year deal worth $1.375M AAV
Cash Per Point: $81,250  (1.3M AAV)
After a struggle with health issues in 2015-16, MacKenzie took over a leadership role as the team captain in 2016-17. Although not a flashy scorer, his leadership and grit cannot be overlooked. He formed a powerful Penalty Kill Duo with Colton Sceviour and was able to remain positive through all the hardships. While he suffered criticism from the fans for being all "happy go lucky", Mackenzie's positivity was needed to keep the team from falling into destruction, which unfortunately the team sputtered and wrecked. MacKenzie is now under a new coach or should I say an old friend for him as new head coach Bob Boughner helped Derek MacKenzie to his best offensive season in 2010-11. Boughner was serving as an assistant in Columbus at the time. 
Stat Expectations: 8 Goals; 8 Assists; 16 Points
Chance to Make It: 84%. Mackenzie is playing under a coach he has experience with and playing with Colton Sceviour, who can score on the 4th line, Mackenzie should meet expectations.
Michael Haley (Center)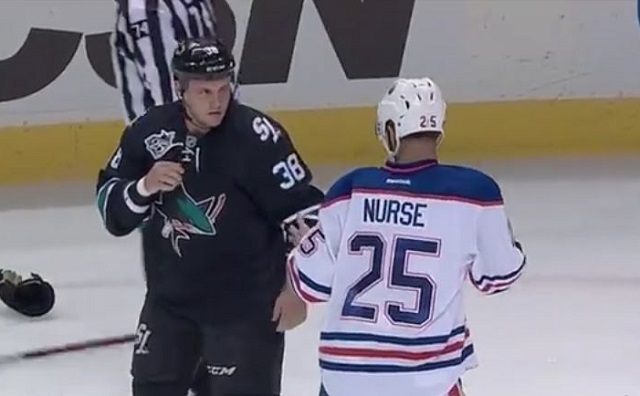 Role: Enforcer and 4th Liner
Stats Last Year: 58 GP (1st); 2 G (T-1st); 10 A (1st); 12 PTS (1st); 128 PIM (1st)
Career Stats: 130 GP; 5-11-16; 350 PIM
Contract: 1st year of a 2 year $825K AAV
Cash Per Point: (625,000 AAV) $52,083.33
In 2016-17 under former Sharks assistant now Panthers head coach Bob Boughner, Haley played in a career high 58 games. Haley put up 75% of his career stats in points and had a good year. Boughner liked Haley so much he brought the 31 year old with him to Sunrise to help fill in a void that Shawn Thornton once filled. Haley like Thornton has been active in the community, as Haley read to kids earlier this summer. With a weak depth forward core expect Haley to get a lot of games played and a lot of time in the box. Haley had 16 fights last year according to hockeyfights.com and had a fighting record of users voting of 8-4-4 which was 8 wins 4 draws and 4 losses.
Enforcer Bits
Michael Haley Fighting Stats        (hockeyfights.com)

Year      Team           Fights     W     D    L    PCT (W-1 D-0.5 L-0)
2009-10   NYI             1         1     0    0    1.000
2010-11   NYI             7         5     1    1    0.786
2011-12   NYI             7         3     3    1    0.500
2012-13   NYR             2         2     0    0    1.000
2014-15   SJS             1         0     0    1    0.000
2015-16   SJS             8         4     1    3    0.563
2016-17   SJS             16        8     4    4    0.625
Total     ---             42        23    9    10   0.655
Stat Expectations: 2-6-8
Will he make it: 50%. It all depends on his usage
Keith Yandle (Defenseman)
Role: Top 4 Defenseman
Stats in 2016-17: 82 GP (T-1st); 5 G (T-7th); 36 A (5th); 41 PTS (6th)
Career Stats: 743 GP; 77-333-410
Ironman: 633 Games Played in a row. 
Contract: 2nd year of a 7 year deal worth $6.35M AAV
Cash Per Point: $154,878.05
After the Nightmare in our own zone, Yandle was decent on offense. However for how lacking his defensive play was, we need more offense from him to be worth his giant contract. Yandle will either partner up with Jason Demers or Aaron Ekblad next year. Both of those guys have their defensive issues. I would like to see Yandle play with Pysyk though. Pysyk can cover up Yandle's bad defensive play. Hopefully under Boughner, Yandle will improve and become the puck moving #2 defenseman (Ekblad is #1) the team needs.
Expectations: 7 Goals; 39 Assists; 46 Points
Chance to make it: 63%. He was solid on the powerplay. With a 2 defender powerplay unit with Ekblad, he will help Ekblad become the goal scoring defenseman the team needs and Yandle will get more assists. He should make these expectations otherwise I would look at other options.