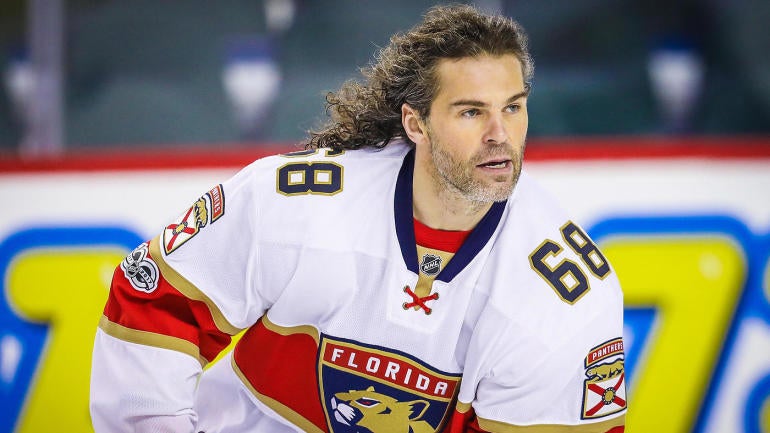 Image credit to https://www.cbssports.com/nhl/news/report-jaromir-jagr-will-begin-2017-18-playing-for-his-own-team-in-czech-republic/
#19 Jaromir Jagr
Position: Right Wing
Time as a Panther: 2015-17
Panther Stats: 181 GP (65th), 49 G (30th), 81 A (25th), 130 PTS
(25th)
Best Season: 2015-16 79 GP 27-39-66
Number Worn: 68
Notable Linemates: Aleksander Barkov, Jonathan Huberdeau
Jaromir Jagr. He played with the Panthers from the ripe young age of 43 to another young age of 45. 2nd all time in points. 3rd all time in goals and we were lucky enough to have him play here in Florida. The future hall of famer was phenomenal in his time here winning The Puck Under the Sun's 2015-16 Panther MVP award after leading the team with 66 points and guiding them to their first 100+ point season. His chemistry with Aleksander Barkov and Jonathan Huberdeau was incredible to watch. He helped them emerge into the stars they are today. Night after night, Jagr achieved milestone after milestone. I was there when Jagr passed Brett Hull for 3rd all time in goals despite linemate Barkov injured and Huberdeau leaving earlier in the game with an injury. He was incredible. I was sad to see him leave the NHL and that the Panthers didn't resign him. He was something to watch. An old man playing a game with linemates that were half his age. He definitely deserves a spot here.
Fun Facts
Jagr has played with the Penguins, Capitals, Rangers, Flyers, Stars, Bruins, Devils, Panthers and Flames.
Jagr is 2nd all time in points and 3rd all time in goals.
Jagr is regarded as one of the greatest European hockey players of all time.