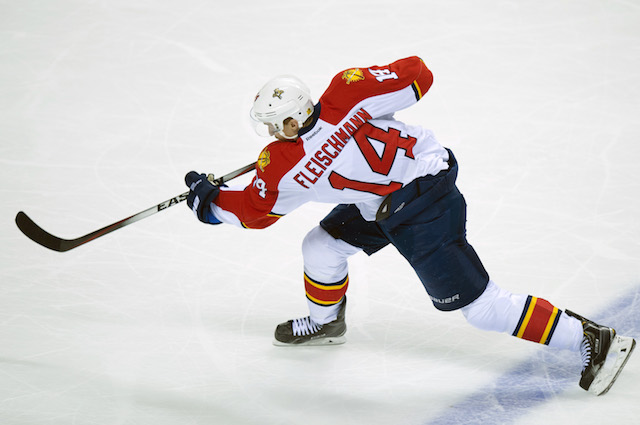 Credit to https://www.cbssports.com/nhl/news/panthers-trade-tomas-fleischmann-to-ducks-for-draft-pick-dany-heatley/
Welcome to my countdown of the top 25 Panthers of all time. As part of the 25th anniversary festivities, I am counting down my rankings of the best 25 Panthers in franchise history. Today we look at Tomas Fleischmann.
#25 Tomas Fleischmann

Position: Left Wing
Time w Panthers: 2011-15
Panther Stats: 262 GP (37th), 54 G (24th), 91 A (22nd),
145 PTS (20th)
Best Season: 2011-12 82 GP 27-34-61
Number Worn: 14
Notable Linemates: Stephen Weiss, Kris Versteeg, Aleksander Barkov,
Jonathan Huberdeau
We start with a relatively recent player. Tomas Fleischmann was fantastic his first year with the Panthers. Helping to break a 10 year playoff drought, Fleischmann put up 27 goals and 34 assists in his 2011-12 season which led the team in points with 61. Flash continued his production in the lockout shortened 2012-13 season leading the team with 35 points. Fleischmann's last two years with the Panthers weren't pretty as his production dropped to 28 points in 2013-14 despite playing 32 more games than his previous season. Fleischmann would eventually be traded for Dany Heatley in 2014-15. Despite his struggles, Fleischmann was a major part of breaking the major playoff drought. Even though he isn't a star, he is an important figure in franchise history because of this. Fleischmann is definitely deserving of a spot on this list. If Flash hadn't fallen off after 2012-13, he could've made the top 10 of this list. Fleischmann has unofficially retired and is currently helping the Panthers spread the game by helping out with clinics. The fact that Flash is giving back was a major factor into him winning the tiebreaker with Jussi Jokinen onto this list.
Flash Facts
Fleischmann's career stats have him scoring 137 goals and 198 assists for 335 points in 657 games.
Fleischmann has played for the Capitals, Avalanche, Panthers, Ducks, Canadiens and Blackhawks.
Fleischmann became a Panther after signing a 4 year contract in Free Agency.
Fleischmann was on the 2010 Czech olympic hockey team.