In this post we will be looking at some players that Dale Tallon could've picked but didn't. There are a lot of players so we will only cover the 2010 draft here which was Tallon's inaugural and worst one as Panthers GM.
Ryan Johansen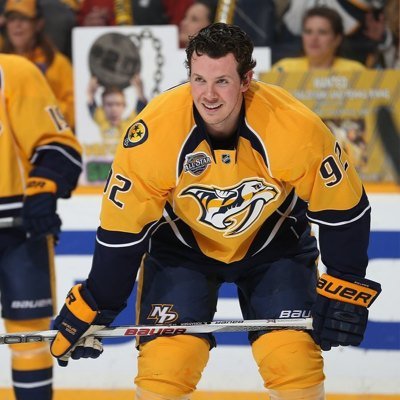 Image Credit: Twitter
Panthers Pick: 3rd- Erik Gudbranson, D
When Johansen was Picked- 4th  by Columbus
Gudbranson's Stats: 391 GP, 14 G 40 A 54 PTS
Johnansen's Stats: 512 GP, 116 G 226 A 342 PTS
Vladimir Tarasenko
Image Credit: Twitter
Note- The Panthers traded for the 15th overall pick in 2010 from Boston and dealt it to LA in exchange for the 19th and 59th overall picks. Let's look at this as if the Panthers never made that trade and held onto the 15th therefore never picking 19th.
Panthers Pick- 19th Nick Bjugstad
Tarasenko Taken- 16th Overall St Louis
Player Originally taken 15th Overall- Derek Forbort
Bjugstad Stats- 362 GP, 82 G 97 A 179 PTS
Tarasenko Stats- 421 GP, 178 G 172 A 350 PTS
Evengy Kuznetsov
Image Source: NHL.com
Panthers Pick- 25th Quinton Howden
Kuznetsov Picked- 26th Overall, Washington
Howden's Stats: 97 GP, 10 G 7 A 17 PTS
Kuznetsov's Stats: 340 GP, 80 G 185 A 265 PTS
Justin Faulk
Image Source: Wikipedia
Note: Faulk was picked 37th overall. The Panthers picked John McFarland and Alex Petrovic 33rd and 36th overall respectively. In this case we will have Faulk picked over McFarland as Petrovic is by far superior to McFarland.
Panthers Pick- 33rd John McFarland
Faulk- 37th Carolina
McFarland's Stats: 3 GP, No Points
Faulk's Stats: 477 GP, 74 G 149 A 223 PTS
John Klingberg
Image Credit: Twitter
Note: The Panthers took three players (Sam Brittan, Joonas Donskoi and Zach Hyman before Klingberg) I'm gonna use Brittan because the other two have had NHL success with other teams.
Panthers Pick- 92nd Sam Brittan
Klingberg Picked- 131st by Dallas
Brittan's Stats: (Goalie) No NHL Experience
Klingberg's Stats: 303 GP 42 G 172 A 214 PTS
Mark Stone
Image Source: Elite Prospects
Panthers Pick: 153rd Corey Droucher
Stone Picked: 178th by Ottawa
Droucher's Stats: No NHL Experience
Stone's Stats: 307 GP, 95 G 154 A 249 PTS
Frederik Anderson
Image Source: Sporting News
Note: Anderson was redrafted in the 3rd round in 2012 but for arguments sake let's just say we got him. I won't include him on 2012 list because I'll already include him here.
Panthers Pick: 183rd- Ronald Boyd
Anderson Picked: 187th- Carolina
Boyd's Stats: No NHL Experience
Anderson's Stats: (Goalie) 257 GP 148-63-31 2.55 GAA .918 SVPCT